Selling your property in winter time.
In my latest blog, I'll explain why you should consider taking advantage of the colder months and selling your property now. With serious buyers, reduced competition and the chance to create a cosy winter home for viewers, the conditions are ideal to put your home on the market.
Research and trends suggest that the ideal time to put your home on the market is in spring or early autumn. Winter is traditionally the period when we settle down and enter hibernation mode.
However, attempting to sell your property over the winter is not to be dismissed. In fact, marketing your property in quieter periods actually gives you the added advantage of facing less competition from other sellers. Property will sell at any time and people will always need somewhere, no matter the time of year.
The period before the festivities is actually great time to sell your home. In January, sellers will flood the market and supply increases dramatically, meaning an abundance of property becomes available. As such you may find it more difficult to secure an offer.
To help you prepare for a winter sale, I'm going to highlight 6 easy to implement tips to help sell your house this winter;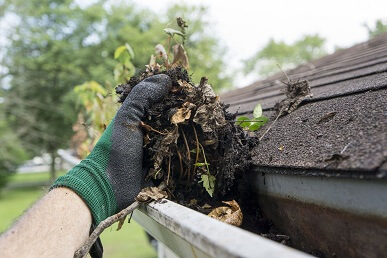 1. Give your property a seasonal face lift
Spruce up your property. First impressions matter. Ensure any problems that are more prominent in winter, such as damp or a faulty heating system, are rectified prior to putting your house on the market.
Make external checks like removing dead leaves and other debris from drain covers. Clear guttering too as leaky gutters and down pipes can cause extensive damage and are visually unappealing.
Spend a day in the garden, ensuring that you:
Cover all garden furniture or store it away in a shed.
Cut the grass and trim back anything that's overgrown.
Remove weeds, moss, lichen, ivy and other debris.
Ensure all pathways are clean and not slip hazards.
Decorate the garden with some all-season plants and shrubbery.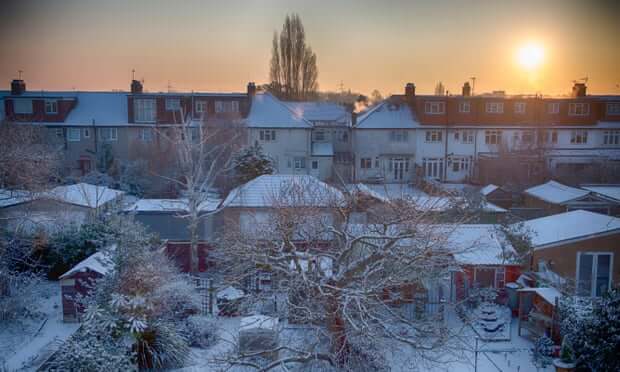 2. Take advantage of natural light
Daylight during winter time is precious, so use it to your advantage. Something as simple as washing your windows will maximise natural light plus give buyers the reassurance that your home is well looked after. In low light, streaks, dirt and fingerprints will be made all the more apparent.
Dust all your furniture, get rid of cobwebs, clean radiator grilles, and light fixtures. Bleach/clean any grouted tiling and polish chrome taps and mirrors.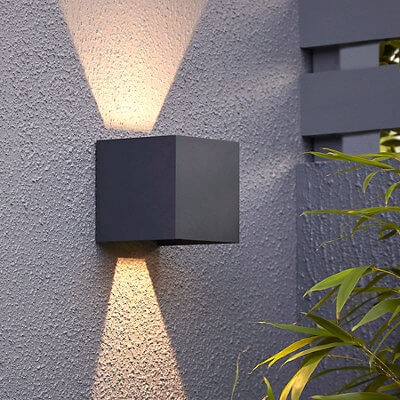 3. Make an investment in lighting
Daylight will fade in the afternoon so install outdoor lighting to give buyers assistance in seeing your home and in turn, creating a warm ambience. Installing a security light that illuminates the front of the property as a minimum will be better than making no changes at all. Temporarily change all bulbs inside your home to high wattage ones as well – you don't want to create a dark and dreary atmosphere inside, even if that's how the weather looks outside.
HOT TIP: If it's dark outside, draw the curtains so viewers don't get the impression they'd be too exposed living in your property.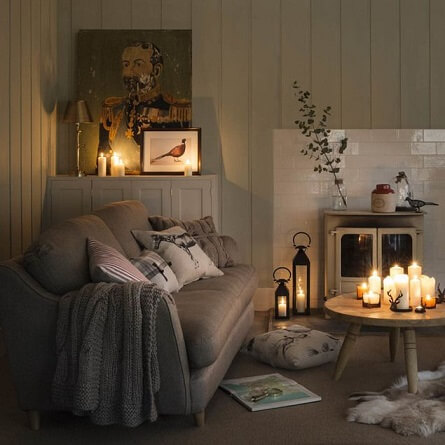 4. Create cosy appeal
Keep your property cosy and warm for when buyers step through the door. Turn up the radiators, including those in any unused rooms. If the property is vacant, program the boiler on a timer to keep the heating ticking over and prevent pipes from freezing. And finally, if you are lucky enough to have one, light a fire, to welcome buyers and create a cosy ambience. Everyone loves the smell and glow of a real log fire in winter!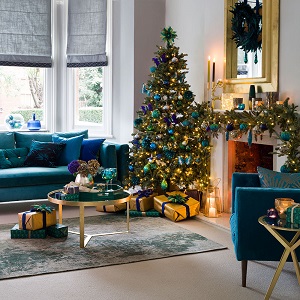 5. Add a festive touch
Make your house as inviting and as welcoming as possible. There's no reason not to have Christmas decorations up. Many buyers will love the festive feel! But don't go overboard. A tastefully-decorated Christmas tree and a festive-scented candle or diffuser could be all you need. If possible, remember to remove any surplus furniture so the rooms don't look overly cramped. Promote your spacious living environment.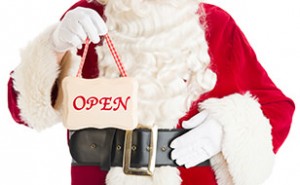 6. Ensure your home remains available
Confirm with your estate agent their opening hours over the festive period. You still want your property to be as accessible as possible for viewings to be carried out. This is particularly the case when people take time off around Christmas. How frustrating would it be for your agent to turn prospective buyers away, or put them off until the new year? Yendor Homes will be operating their usual opening hours, 7 days a week over the festive period with the exception of Christmas and Boxing Day (when let's be honest, no-one is really thinking about viewing homes on those days anyway!)
If you have any questions or comments about selling your home over the winter months, I'd be happy to address those for you. Please reach out via the usual methods , click to contact me or reach out via phone on 01236 316004.
All that remains is for me to wish you a safe and joyful festive period.
Cheryl x